Preventive Maintenance Software definition: A system that manages a set of standard procedures devised to prevent the malfunction of a  piece of equipment.  Malfunctions may include such issues as breakdown, excessive wear and inaccurate measurements. A preventative maintenance database helps to keep track of all pieces of equipment in your operation so you can stay on top of th e issues.
Buy This Software For A One Time Fee!
Preventive maintenance is accomplished by a defined set of predictive or absolute measurements.  Our machine maintenance schedule template makes the task of monitoring and calculating easier through the analysis of absolute meter readings and trend monitoring.
An equipment preventive maintenance software package can be bought off the shelf.  However, rarely do these packaged solutions conform to all of the challenges of your particular PM scheduling requirements. Or, if they do they will cost $25,000!  Here we offer a preventive maintenance software template for a comprehensive solution to your equipment PM needs.
Our features are as follows:
Identify multiple preventive maintenance types for each piece of equipment

Specify different intervals for preventive maintenance scheduling methods – including

Any numerically increasing value or threshold such as run-hours, back pressure, cycles, millimeters, pressure guage, strokes, etc.

Calendar Intervals – any number of weeks or months – e.g. 1 week, 4 weeks, 12 months, 3 months, etc.

Simple user interface

On screen identification of scheduled preventive maintenance tasks currently due with report capability

Independent management of multiple schedules on equipment

Generate work order reports by equipment maintenance schedule
We have developed tables and queries in our software that allow you to use almost any method of preventive maintenance scheduling – such as vacuum pressure gauge readings on pumps, run time, and other machine specific measurements.
Equipment Screen – Preventive Maintenance Software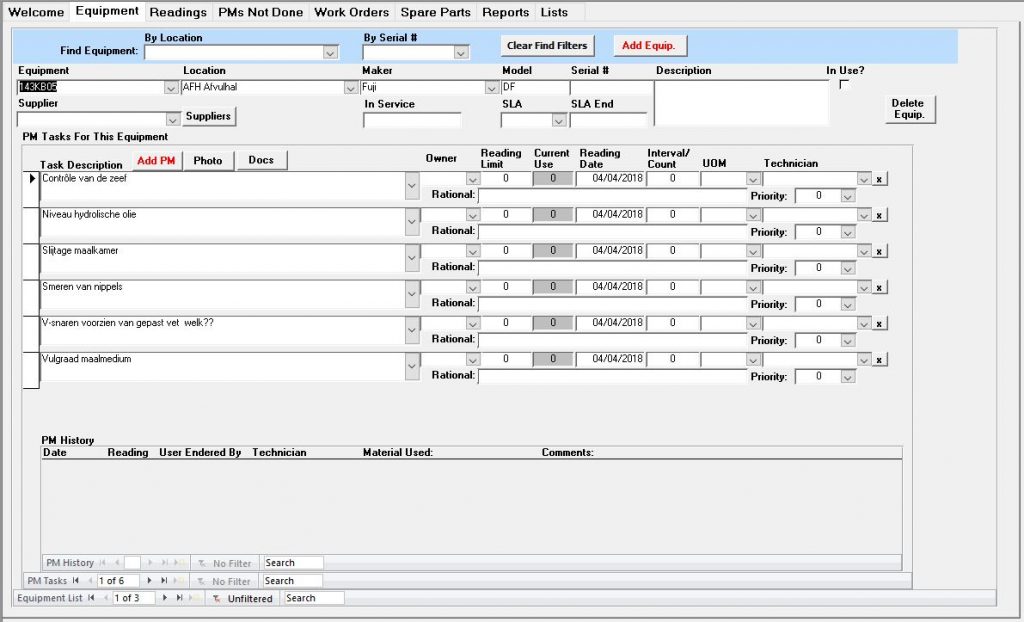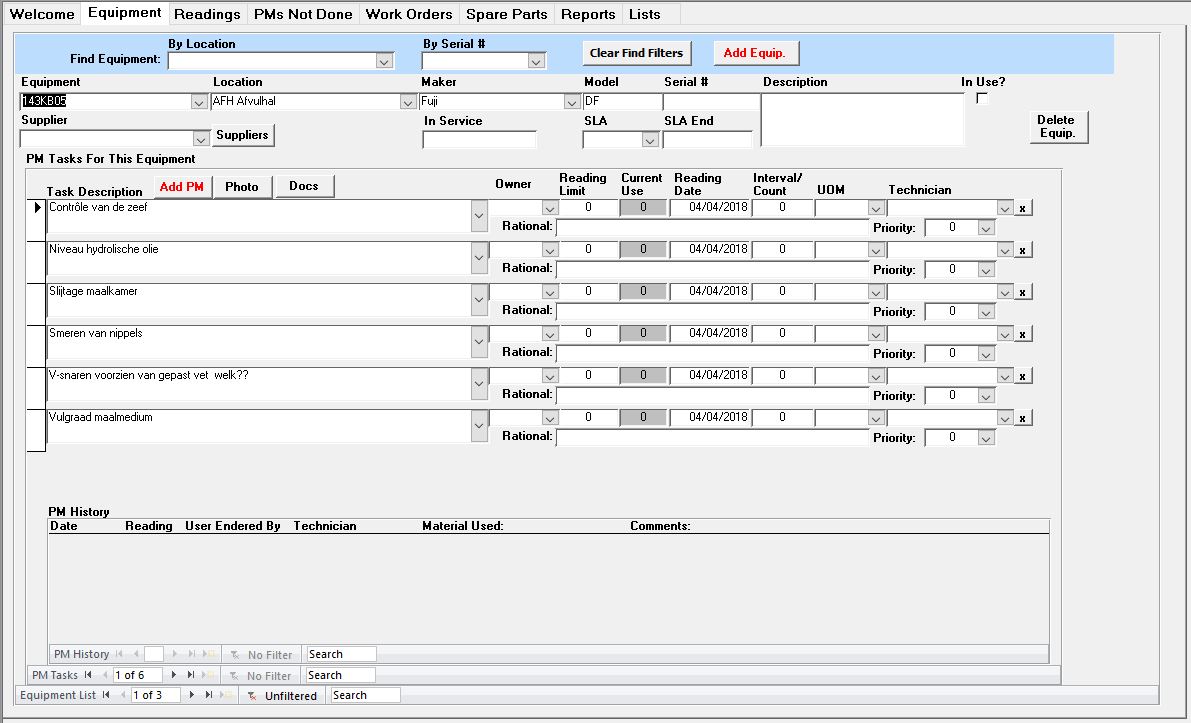 Equipment preventive maintenance (PM) setup is shown in the screen above.  Multiple equipment PMs can be setup and these preventive maintenance tasks can be scheduled on either a calendar basis or an equipment meter reading basis such as run time.  This screen within our Preventive Maintenance Software also provides a preventive maintenance review feature for each piece of equipment.
Following are the key attributes for each piece of machinery:
Type, Make, Model, Serial Number, Description, Location, Active Status, and Barcode Identification.

Current reading displayed and how long until next reading .

Also add supplier company information with contacts within each company: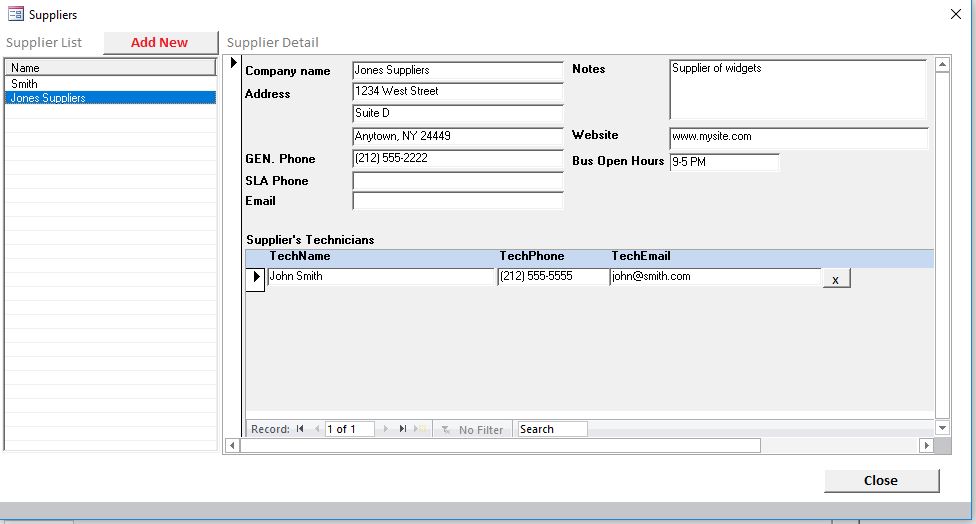 And add equipment photos: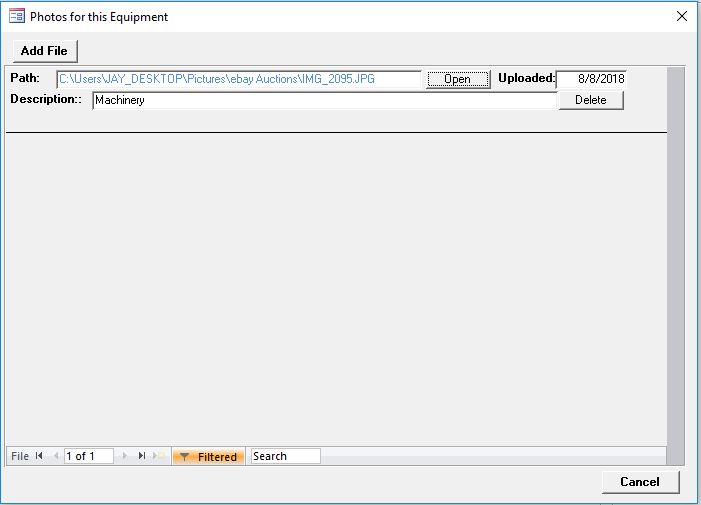 Preventive maintenance equipment meter readings can be entered one at a time in the data entry field by activating the dropdown list to the meter or by scanning via a barcode wand. This same form also provides a data review capability by simply switch form modes.  Alternatively all meter reading can be entered in batch mode back at the office.
PM Tasks Not Done – Preventive Maintenance Software
A simple list of PMs due is displayed on the form below.  View PMs scheduled by calendar time, operation run time hours, or other measurements such as vacuum pressure gauges, back pressure, temperature, etc.  Flexible design allows management of diverse tasks for maintenance scheduling algorithms.
Add individual reading data here

Recently added, also is the spare parts list:

Also work orders get generated from PM tasks and the software provides the ability to track work orders as well:

In our Preventive Maintenance Software, A user-expandable list of reports is provided.  Simply clicking on the report will either display the report or popup a parameter for associated with the PM report: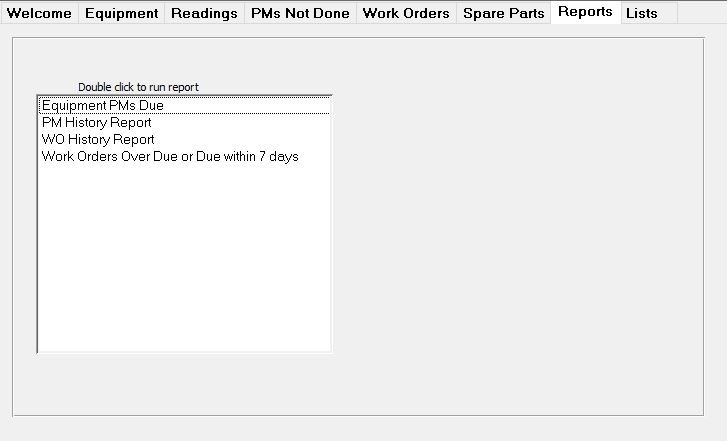 As with all of our databases we strive to provide user maintainable and expandable databases.  Where ever possible, the drop down boxes in our preventive maintenance software are list driven, and all lists are infinitely modifiable by the user: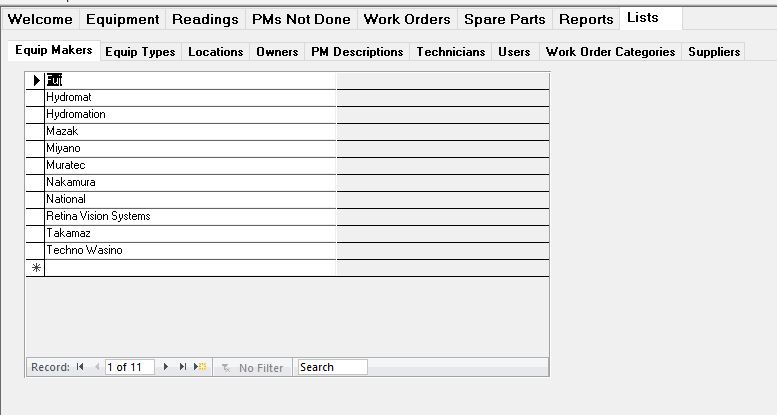 Also in our Preventive Maintenance Software, Reports can be filtered by any field value and sorting can be defined by the user. This template can be easily custom-design to suite your needs and grow with you over time.  As you add equipment and new maintenance items, no additional programming is needed.  This is a great cost effect preventive maintenance software solution to organize your PM tasks.
The report below provides PM analysis for:
Equipment By Location

Equipment Type

Weekly Meter Reading

PM Reading

Run Tim Hours

PM Interval

Units of Measure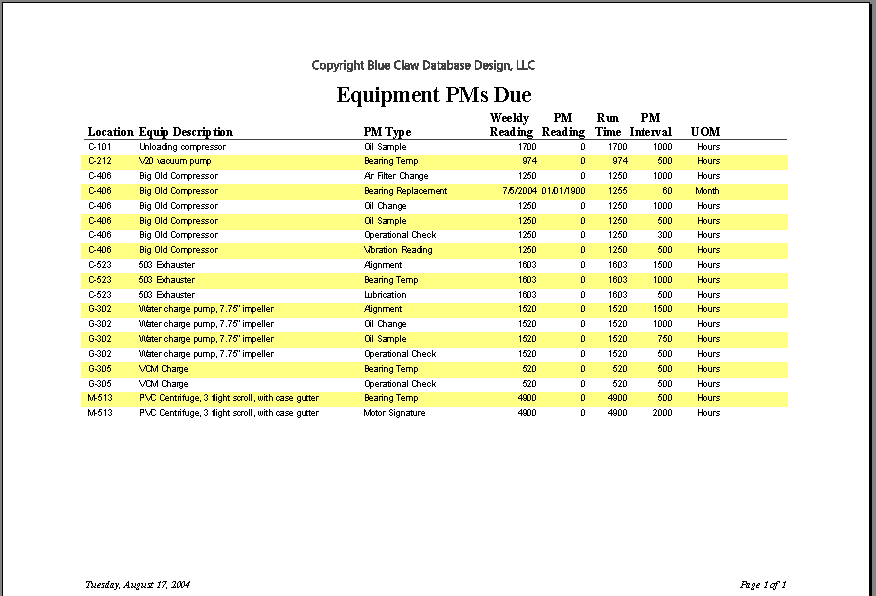 Check out our other templates for a variety of other business needs here.
To find out more about Jay McCormick on Linked in, click here
Access Database Templates: