Asbestos Survey
Asbestos Inspection and Management Database
Asbestos abatement projects have been one of the most common hazardous material cleanup projects throughout the country during the last 25 years.  Numerous class action law suits have occurred due to worker and consumer exposure to asbestos material.  Asbestos has been proven to cause many diseases such as asbestosis. We were contacted a few years ago to develop a comprehensive database to manage the survey of suspect Asbestos containing materials to determine asbestos cleanup requirements for facilities.  The Asbestos survey system is design to manage multiple asbestos cleanup projects concurrently with re-sampling over time.  The database includes a highly flexible data-driven design such that all key data attributes are list driven and are maintainable by the user.  The system also has the capability to manage large amounts of supporting documentation through the organization and display of documents including MS Word, AutoCAD drawing files, and photographs.
The asbestos survey software template described here focuses on asbestos remediation projects; however, with minor modification the same system may be used for general hazardous material surveys and lead contamination surveys.
The thumb nail images below provide an overview of the design and functionality of the database.
To see a full size image click on the thumbnail image
Welcome screen illustrating efficient user interface with tabs for each database function.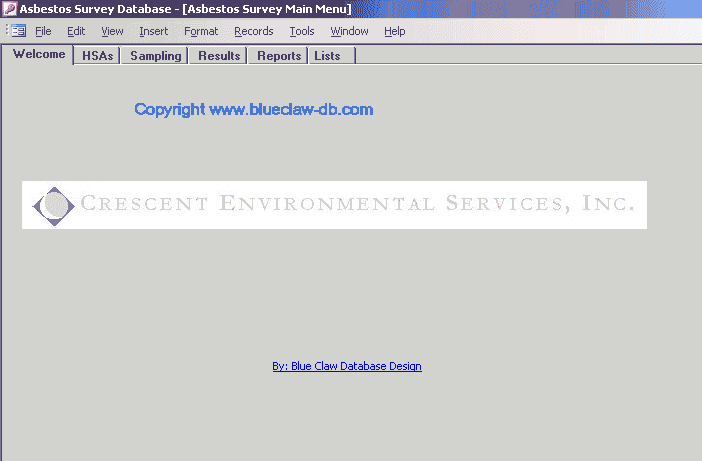 Below is the main screen for setting up the asbestos abatement HSA sampling areas. The database provides great flexibility in defining spaced with suspect asbestos containing material.  Building, rooms, floors and areas with spaces can be described and grouped in one sampling area for the suspect asbestos containing material.  Also included are NESHAP and AHERA classifications for each area.
The database can handle any number of buildings, floors, rooms and spaces.  There is additional detail available for ACM subtype of 'Pipe'.  The additional pipe information includes:
Pipe Diameter

Type

Orientation

Height
Asbestos cleanup sample characteristics are defined in this screen.  Selections are made for the HSA, collection date, technician and any scanned notes or photographs.
The ability to include the supporting data such as notes and photographs greatly simplifies the organization of the asbestos ACM sampling project.
The results of the asbestos cleanup sampling are entered into the screen below. Note the parallel design between asbestos sample definition tab and asbestos sample results tab – this makes training and day to day operation more efficient compared to other layouts.
A flexible asbestos management reports parameter form is shown below.  This form provides for filtering of the sample analysis results by key sample characteristics.  The featured reports are as follows:
Suspect ACM Inventory by Functional Space

HSA Inventory by Functional Space

Sample Results by Homogeneous Sampling Area

Sample Analysis Result by Building Space
A print of the asbestos cleanup report is overlaid on the asbestos report parameters screen below.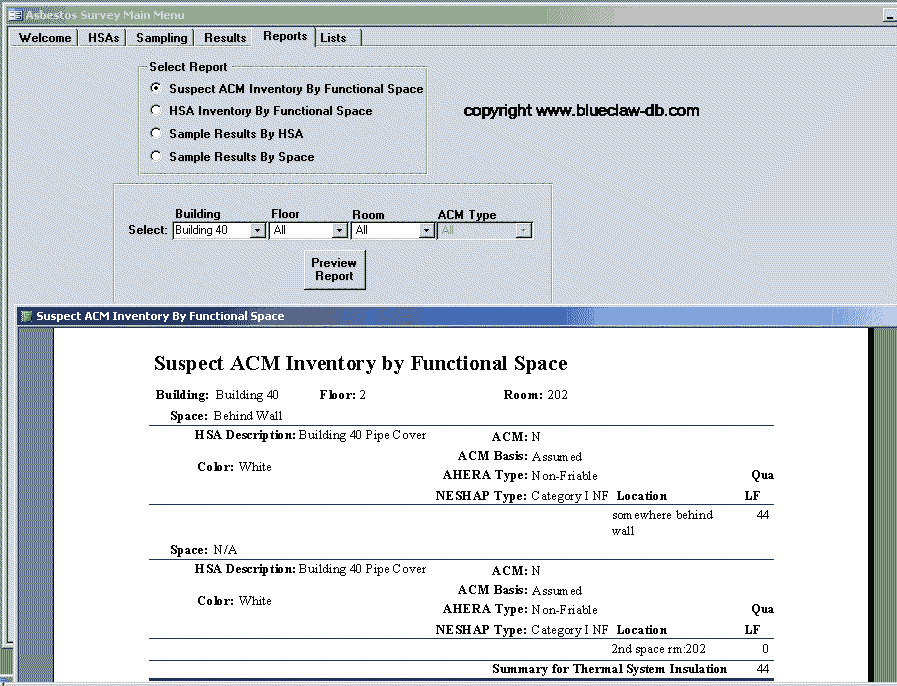 Key to a flexible asbestos database management system is the ability for the user to maintain lists for all aspects of the data entry process.  Below you can see that nearly all aspects of the data entry can be customized by extending or modifying the various lists which support the main asbestos survey data entry process.  Pipes, analysis methods, layers/colors, and more can be fully customized.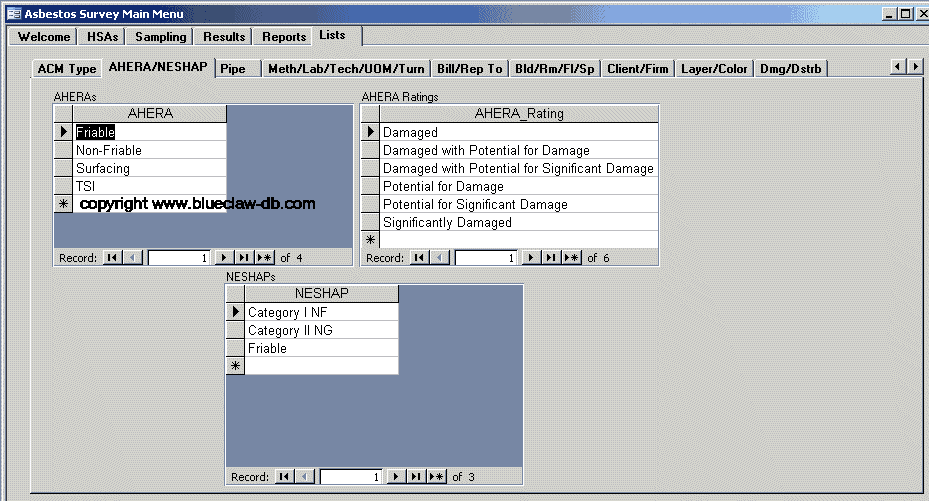 Contact us today for a live demo of our Asbestos Remediation Survey Template Software.
Access Database Templates: