The Standard Operating Procedure (SOP) document management software assists the procedure of implementing new SOPs as well as revisions to SOPs.
The key functions of the SOP Version Management Database are:
Management of the SOP document development and revision review procedure.

Maintain an library and a history of all SOPs documents

Manage distribution of each SOP document by person and copy number

Manage the personnel training requirements

Maintain a record of personnel SOP training

Provide detailed statistics about the development process

Output various reports to aid management of the functions

Provide a simple method to maintain lists
The database we development presents all document management software functions in a user-friendly tabbed interface.  The database is infinitely expandable because most table attributes are list driven and all lists are easily maintained by the user.
Two versions of the database front end were provided to Wyeth:  A management version that is read-only and a supervisor's version that provides update and edit capabilities.
Below is the opening screen of the database: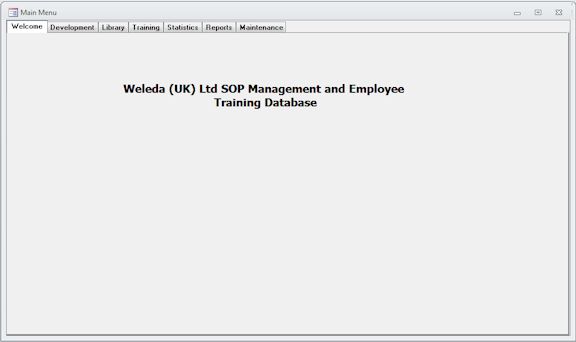 The Development tab of the database provides the user with the ability to control SOPs during the development steps.  Each SOP will require several levels of review and signoff.  Associated reports identify the status of each SOP in the development cycle and can flag SOPs that have been held by an individual reviewer too long. The Development tab also allows the user to maintain SOP cross references and departmental interdependency.  Here is the Development screen: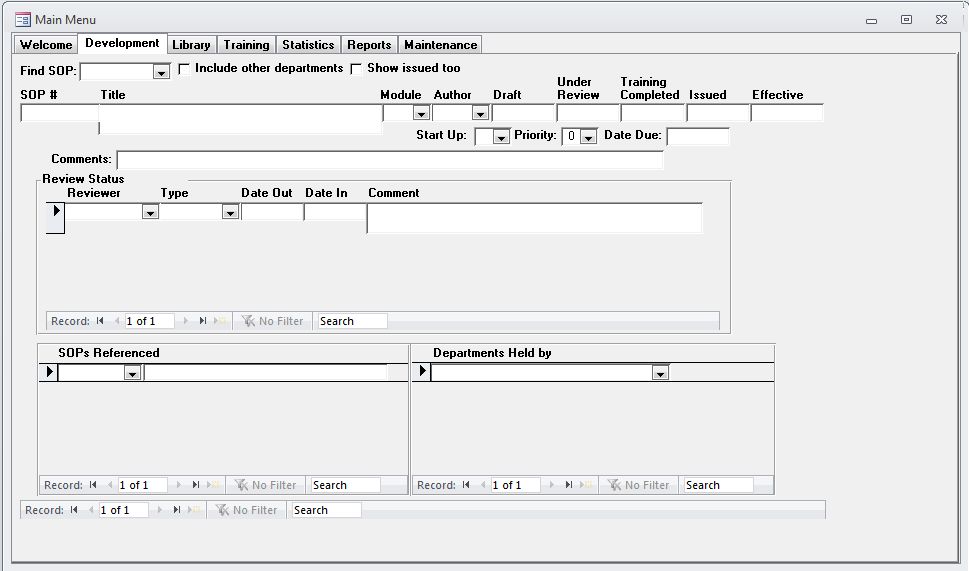 The Library tab provides the user an overview and history of all SOPs and shows the distribution status of each copy of each SOP: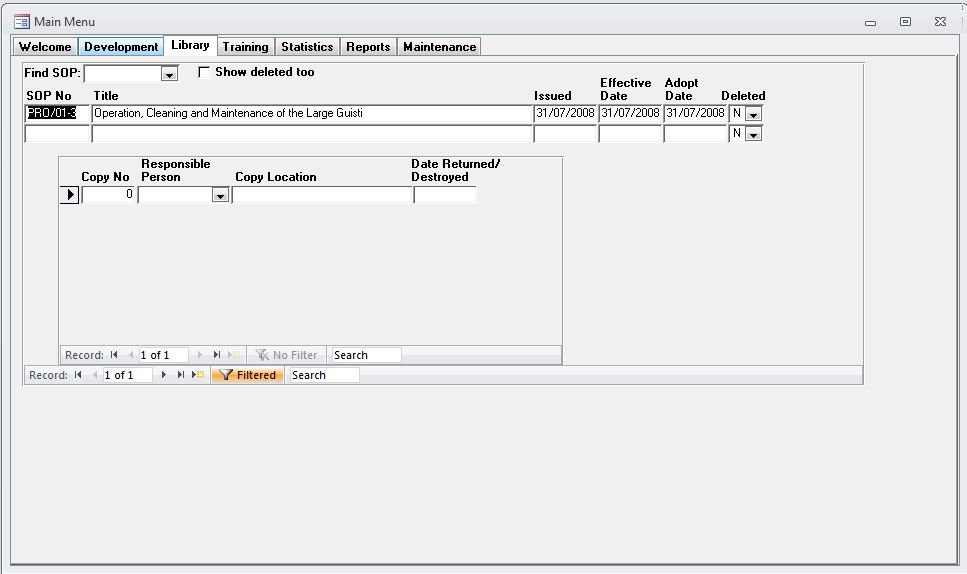 Additionally, the database serves to manage the instruction of employees for their job requirements.  Each job requirement requires classes on many SOPs.  The training courses for each SOP also vary in length, and the database outputs reports to measure future class-load.  Lastly, training on some SOPs must be refreshed at periodic intervals and varying levels of retraining are required when SOPs are revised.
The Training tab manages all aspects of SOP training including defining training requirements by job function and management of training for each employee.  Here is a snapshot of the Main tab of the Training Screen: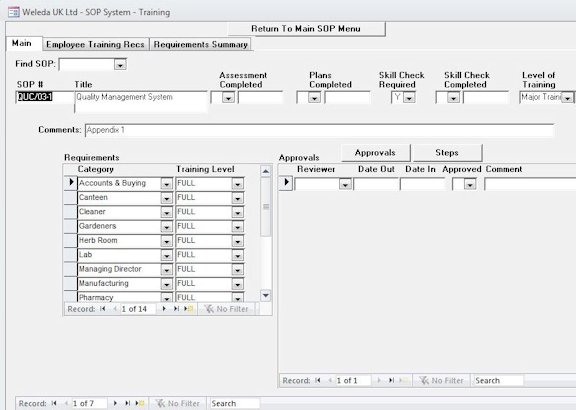 The Employee Training Recs tab provides a complete picture of the training requirement, both required, and met and missing, for each employee based on their job function (category).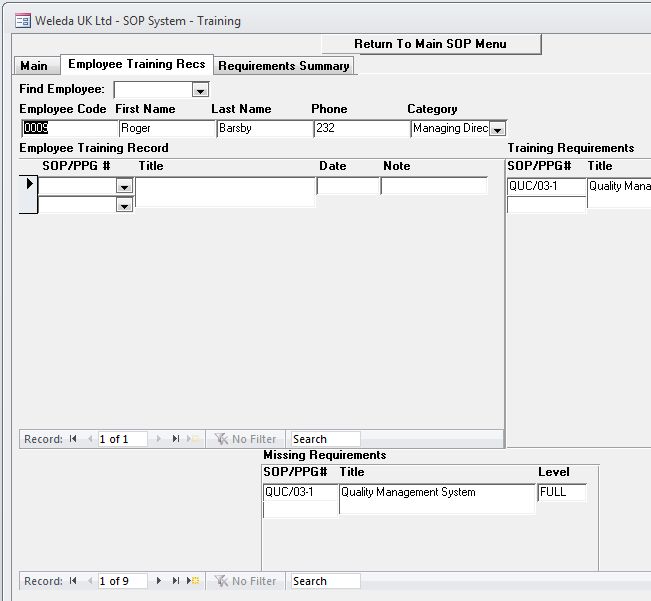 The Statistics tab offers a one-stop location for all of the major statistical measures for the management of both the SOP development cycle and training management: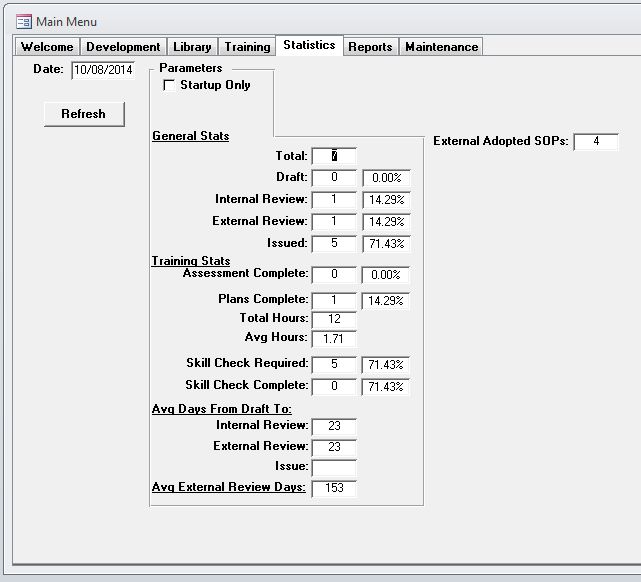 The Reports tab is simply a list of reports selectable by the user.  A snapshot of this screen is not shown.
The Maintenance tab allows the user to maintain lists in the SOP database: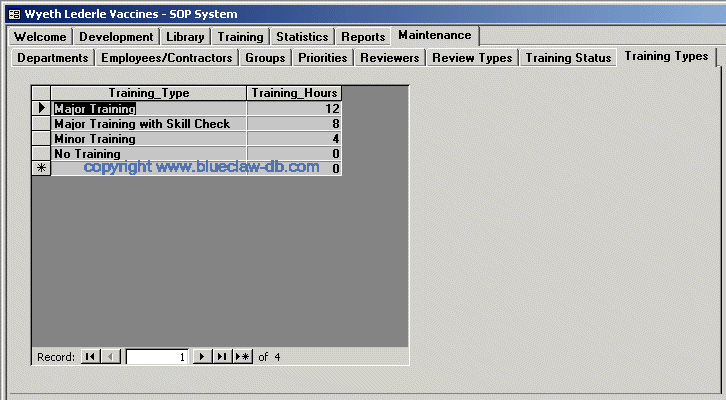 Access Database Templates: