Work Order Template: Is the management of work orders critical to your business?  If your business involves the installation and service of equipment then this database may be perfect for you.  Do you have billable and non-billable service calls, warranty vs. non-warranty equipment?  If you have spring and fall maintenance or shutdown/startup contracts then this database fits your business exactly.
We were recently contracted to develop a comprehensive work order software template database.  The overall goal of the work order template database was to provide an easy to use, complete solution to the management of work orders related to the installation, service and  maintenance of customer equipment.
Manage client master list

Manage prospects

Generate service work orders when customer calls

Create installation work orders for new equipment installation

Automatically schedule spring/fall startup/shutdown annual maintenance work order

Output maintenance work order letters & maintenance contracts

Manage billable/non-billable and warranty work effortlessly

Produce invoices and manage payments

Output various work order management and status reports

Create a flexible data driven solution which will expand as the business expands
Following the work order software screen shots below, we discuss the key features of the work order software system.
Our standard interface for databases of this size is the tabbed interface.  This provides one click movement to most all of the database functions and is the easiest layout for user training.
Below is the opening introduction screen of the work order database entry screen:
When a customer calls with a service issue the user goes to the New Work Order form and enters the details about the service call.   During this process the user may jump to the Schedule to review the workload schedule (see below for details about this function).
Note that previous work orders for the client are automatically displayed and the bottom of the screen and all installed equipment is listed in the center of the work order template.
The Clients tab of our work order software provides a simple interface to review and enter all aspects of a customer's account.  Note on the lower right of the screen the Annual Service work order option.  In this database customers may sign up for contract annual service on their equipment.  This service occurs in the spring and fall of each year.  Note also that start of billing may be different than actual contract start season and year.  This provides the user with flexibility for custom situations such as price negotiation on new systems.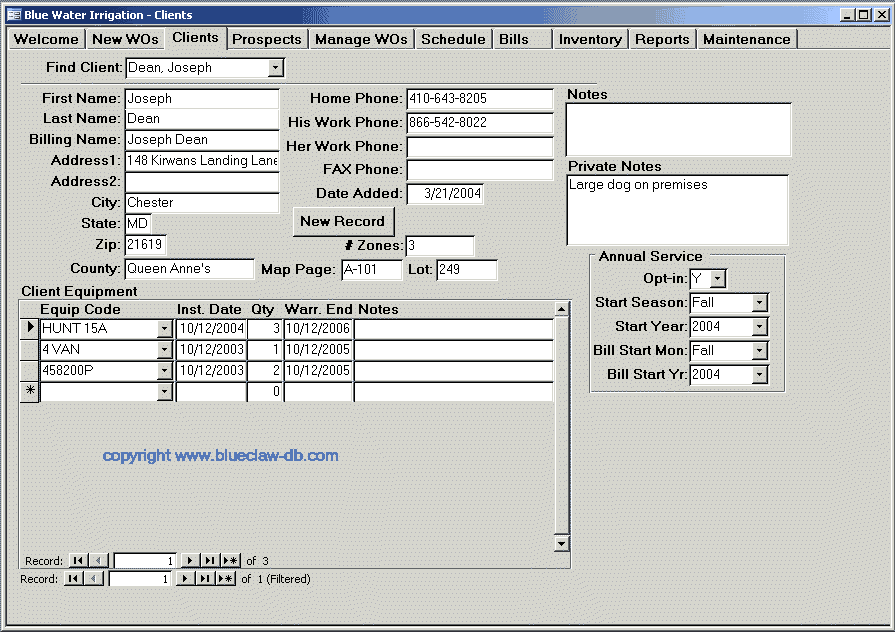 Nearly all businesses have prospective clients.  The screen below allows the user to manage prospects including notes and the ability to move a prospect to the Client table with a click of a button.
Review and management of individual maintenance work orders is handled on the Manage WOs tab. When a work order comes back from the field the user enters the results of the work order as well as any equipment or materials used.
The work order software delineates between equipment and materials as well as billable or non-billable status. A work order invoice printout is available with the Print Invoice button.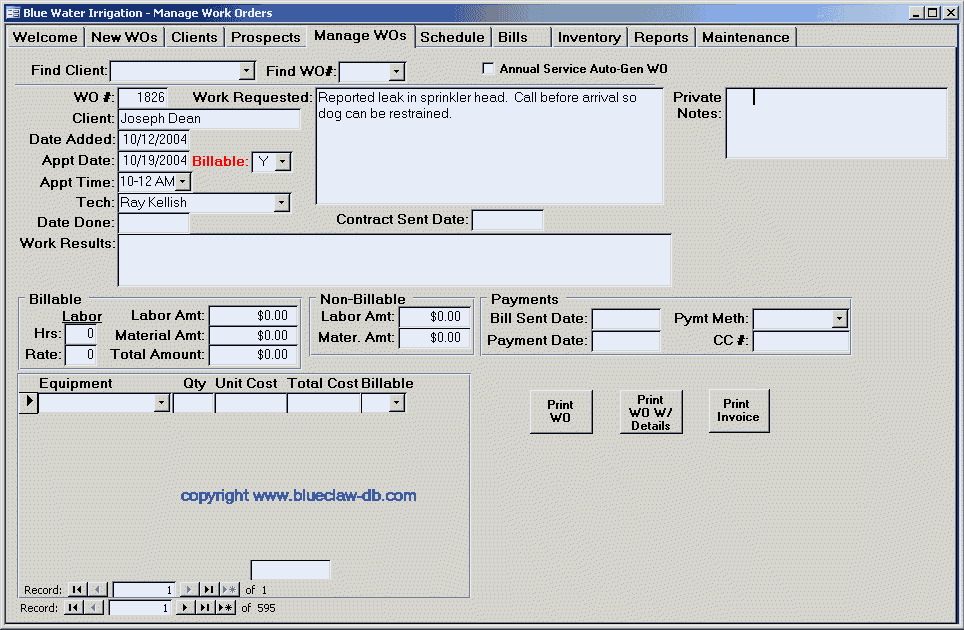 One of the most powerful features of our work order database is the ability to view a calendar of scheduled work orders.  The initial high-level view is shown below.  There are a total of 4 levels to the schedule view: Calendar Level, Level One, Level Two, and Level Three.  Each level shows more detailed information that the level above it.  When you click on the image below to see the full size screen you'll see that the calendar has days going across the top and service time slots going down the left side.  Each cell will be blank, contain a single name, or contain a single name with a number in parenthesis following the name.  When there is a number in parenthesis this indicates that there is more than one work order scheduled for this day and time slot.  In the next screen image (below) you'll see how the user can simple view the details of that time slot.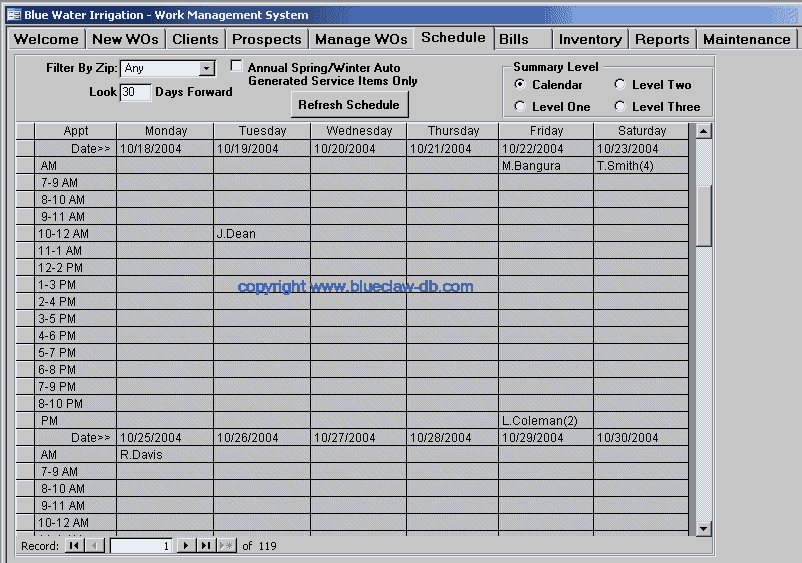 Clicking on any date/time slot cell will pop up a detailed listing showing each customer scheduled at that time and on that date, and the work order number for each. See example below…
Clicking on any date/time slot cell will popup a detailed listing showing each customer scheduled at that time and on that date, and the work order number for each.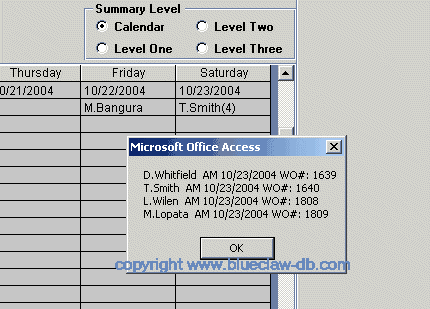 Level One View:
The Level One radio button changes the display to show a summary of work orders by zip code, city, date and count of work orders.  This display is sortable on any column by right clicking and selecting either ascending or descending sort option.  Further below are finer levels of detail with level two and three radio buttons.
Level Two View:
Level two shows further detail by listing the schedule time of work orders. This display is often used to identify schedule opening and schedule conflicts for a particular maintenance team.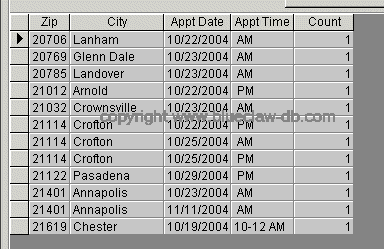 Level Three View:
Level three provides the most detail view of the word order information – showing each individual work order including the customer's name:  Dynamic flexible screen aid in management of tasks in our work order template.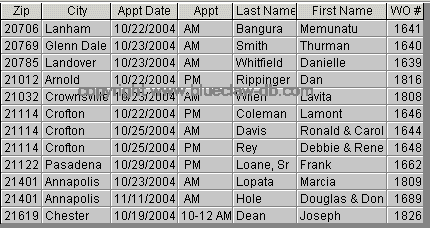 Contact us today to get a quote on your Work Order Software or Work Order  database template.
Access Database Templates: